K-NETS Consulting Group
-K's Network Emerging Technology Solutions -

The Best Partner for Technology Marketing and Consulting Solutions!
Between USA and Japan in the industries of Semiconductor Packagings, Assemblies and Fiber-Optic devices,
We are here for services;
-Technology Consulting,
-Marketing Research,
-Entry or JV partner Coordinating,
-Public Relations and Advertising, etc.

Optomarketing, Inc.
Global Fiber Optics, Inc.
Data Resource, Inc.
Advanced Microelectronics Technology Co., Ltd.
TechDream, Inc.
R & K Japan, KK
Accufaces & Associates
AiDi USA, Inc.
.....................and more....................
Extend your Technologies and Networks beyond the border!!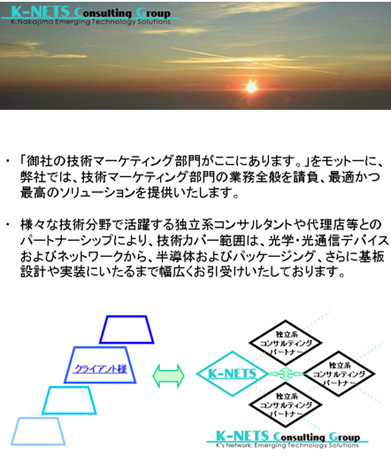 Silicon Valley, California
�
Phone: 408-268-4164
E-mail: Contact@K-NETS.US